Top Superfoods To Make Your Skin Naturally Healthy
Cold weather, bad nutrition, environment - all of these factors can cause dry & inflamed skin, wrinkles and loss of glow. If you've tried different beauty treatments and your skin still doesn't look perfect then it's time to change your diet.
What you eat can significantly affect your skin health. Make sure you're getting enough essential nutrients to protect your skin. The foods on this list are great options to keep your skin perfect this winter.
1
Top Superfoods For Dry & Inflamed Skin
Dry & Inflammations Skin: Causes & Risk Factors
The signs and symptoms of
sensitive skin often is temporary
and depend on your nutririon, health, climate.
Such skin can cause one or more of the following:
Feeling of tightness in the skin, especially after showering
Skin feels rough and looks rough
Itching and redness
Deep cracks that can bleed
Dermatological researches have shown that taking certain vitamins and other dietary supplements, including vitamin D, collagen and vitamin C, can help improve skin hydration and help keep it healthy and nourished.
Below are the
top foods you need to include
in your diet to avoid dry skin.
Avocado's Benefits For Dry Skin
Rich in vitamins A, D and E, the avocado perfectly moisturizes dry skin from the inside out and protects against environmental factors such as harmful UV rays. Provides soothing hydration in cold weather. You can not only add avocado to your diet, but also apply it topically for even more beauty benefits.
Anti-Inflammation Mask Recipe: Mix 1⁄2 avocado with yogurt and raw organic honey in equal proportions for a moisturizing mask.
Leave it on for 15-20 minutes and wash off with warm water. Your skin will become soft and hydrated
Water Natural Super Powers
Like any other part of the body, your skin is made of cells and your cells are made of water. If your skin is not getting enough water, the lack of moisture will manifest itself as dry and flaky skin. Dry skin is less elastic and more prone to wrinkles.
Drink plenty of water. Drinking at least 8 glasses a day will help flush out toxins and moisturize your skin from the inside out. Even two weeks of increased water intake should be enough to see how hydration affects your skin .
Flaxseed Oil And Its Benefits For Dry Skin
Flaxseed oil is one of
the "richest" oils
in terms of the content of unsaturated fatty acid omega-3. The use of flaxseed oil helps to soften, moisturize, nourish, and rejuvenate the dry skin, and it is especially great for the care of flabby and wrinkled skin. Flaxseed oil
removes dryness and flaking
of the skin, increases the elasticity and firmness of the skin, smoothes fine wrinkles.
Flaxseed oil is recommended to drink 1 tbsp. spoon, 1-2 times a day, 15-20 minutes before meals. Well, if its taste is completely unpleasant to you, you can add it to various salads, yogurts, kefir, smoothies, and other food dishes.
DIY Mask With Flaxseed Oil
In facial skincare, flaxseed oil can be used both as an independent external agent for lubricating the face, or some of its areas, and, for example, as a base oil for making
homemade creams
.
Recipe for a highly nourishing mask for dry and inflamed skin, or rough and chapped skin:
Take 1 raw egg yolk and add 1 teaspoon of flaxseed oil and the same amount of honey to it. Stir everything, and put the container with the mixture in hot water for a few minutes.
Apply the already warm mass to the face, and after 15 minutes, rinse with lukewarm water.
Sensitive & Dry Skin Protection Tips
Here are
some tips to keep in mind
to avoid dry skin:
Drink plenty of water
Alcohol in large quantities is prohibited, as this can lead to dehydration and, as a result, dry skin
Sleep is very important
Avoid stress
Use a good moisturizer with natural ingredients
Try including some of these
foods to moisturize and nourish
your skin from the inside out. A diet rich in these foods is a great way to keep your skin hydrated and soft, even in winter.
2
Anti-Wrinkle Superfoods
Superfoods That Help Slow Aging
Some foods help to fight environmental damage for your skin, stresses and its consequences for your appearance. So, they
help fight skin aging
. Vitamins A and C are some of the best antioxidants available. These antioxidant-rich foods also serve as anti-inflammatories and are the best foods for maintaining healthy and glowing skin.
Antioxidant rich foods
: oranges, strawberries, kiwi, carrots, broccoli, onion, red wine, green tea, mango, garlic.
To maximize your antioxidant intake, load your plate with a bright rainbow of colorful of vegetables, fruits, and seafood. Read on for the top most powerful anti-aging superfoods.
Turmeric Powerful Anti-Wrinkles Impact
What's The Secret? Turmeric contains a wonderful ingredient called curcumin, which helps in
skin regeneration
through the production of collagen. Turmeric has anti-inflammatory and antioxidant properties that can make the skin glow incredible. Using turmeric as a food supplement can revitalize your skin, leaving it naturally soft.
What's the
Best Way to Get It?
Try a turmeric face mask at home to see how well the spice works on your skin:
Mix until smooth 50 grams of natural yogurt, 1 tablespoon of honey, and 1 teaspoon of turmeric and apply to your face. Keep the mask on for 15 minutes, then rinse off with water.
Incredible Anti-Aging Benefits Of Cow Milk
Contains essential nutrients: phosphorus, B12, magnesium, vitamin A, vitamin D, riboflavin etc. As you age, you lose skin firmness. Milk counteracts this because it contains two simple anti-aging elements - protein and calcium. The protein found in dairy products
can help improve skin elasticity
. In addition, the vitamin D in milk help to fight with wrinkles and
help slow aging
.
In addition to drinking milk as usual, try including it in your daily routine:
Smoothie: Mix it with herbs and a little fruit for a nutritious snack.
Milk Oatmeal: This is a tasty and more nutritious alternative to the water option.
Coffee: Add milk to coffee and add more nutrients to your drink.
However, many cannot tolerate milk because they cannot digest lactose. This has led to the emergence of many alternatives to non-dairy milk, including: Almond Milk, Coconut Milk, Soy Milk, Oat and Rice milks.
Blueberries - The Best Wrinkles Fighter
Blueberries are
the best antioxidant
superfood for skin with great benefits:
Retinol "soothes" the skin of the face, reduces the production of subcutaneous sebum.
B vitamins - help to control skin diseases.
Flavonoids make the skin soft and smooth.
Vitamin C rejuvenates the skin.
Magnesium improves facial blood circulation.
The
best anti-aging skin creams
, tonics, and vitamin supplements are formed based on blueberries.
DIY Blueberries Anti-Aging Mask
This blend's recipe eliminates the
"oily" face skin look
and acne on the face.
Blueberries - 1 tablespoon
Strawberries - 1 teaspoon
Sour cream - 1 tablespoon
lemon juice - 5 drops.
Whisk in a blender and
apply on the face
in a thick layer for 15 minutes.
3
Get Glowing Skin With Proper Superfoods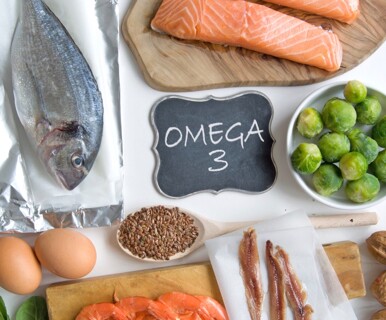 Superfoods For Naturally Glowing Skin
Omega-3 - Essential fatty acid (EFAs) play a critical role in normal skin function and appearance. EFAs
are important to include
in your diet because the body does not produce them on its own.
Healthy fats are an incredibly important nutrient to include in your diet if you want to keep your skin glowing. Fortunately, nature has provided us with many foods that contain essential fats to help promote your natural glow - Salmon, Sardines, Anchovies, Nuts, Oysters and Mussel, Sesame Oil
Having enough EFA in the body provides the following benefits:
protected from sunlight damage
keeps skin glowing
Daily Dose: In typical adult women and men, 2% of total daily energy intake should come from omega-6 and 0.5% from omega-3. This corresponds to a
daily dose of about 6 g/day
(5 g omega-6/day + 1 g omega-3/day) for women and 8 g/day (6.4 g omega-6/day + 1.6 g omega-3/day) for men.
Fatty Fish - The Best Food For Skin Glow
Fatty fish, such as salmon, mackerel, and herring, are also high in essential fatty acids, namely omega-3, which reduces inflammation and keeps skin plump. If you have too little of it in your diet you could find your skin becomes dry. Salmon also has selenium, a mineral that protects the skin from sun exposure.
Such fish helps provide good hydration, which is reflected in your skin. A sufficient amount of omega-3in the body take care of your skin from the inside out and contribute to your natural incredible skin glow. If you do not like the taste of fish, you can buy a fish oil in capsules at the pharmacy.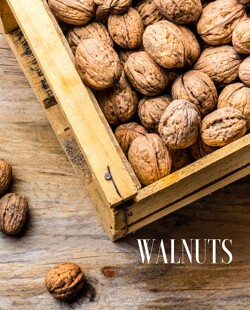 Walnuts For a Perfect Skin Glow
Walnuts have many properties that make them excellent food for glowing skin. They are richer than other nuts in omega-3 and omega-6 fatty acids. Omega-3 fats reduce inflammation in the body, including the skin. What's more, walnuts contain other nutrients your skin needs to function properly and stay healthy.
Zinc is essential for your skin to function properly as a barrier, to heal wounds, and fight bacteria and inflammation. Walnuts are a good source of essential fats, zinc, vitamin E, selenium, and protein - so if you haven't already added these nuts in your daily diet, do it soon to get a naturally glowing and healthy skin. Eat 30 grams of nuts daily for the best looking skin
DIY Mask For Incredible Glowing Skin
Most of you know about sesame oil, which, when combined with turmeric,
provides the best skin care
and incredible radiance. The benefits of sesame seeds for the skin:
Powerful antioxidants help detoxify the skin
Its antibacterial and antiviral properties make it beneficial for the skin
Keeps skin soft, smooth and radiant
How to mix? Take a tablespoon of sesame seeds and mix in a pinch of turmeric. Add milk (2-3 tablespoons) to this mixture. Grind it until smooth, apply on face before going to bed, leave it on overnight and wash your face with clean water the next morning.
It helps to clear the face of dark spots, acne and give a delicate glow.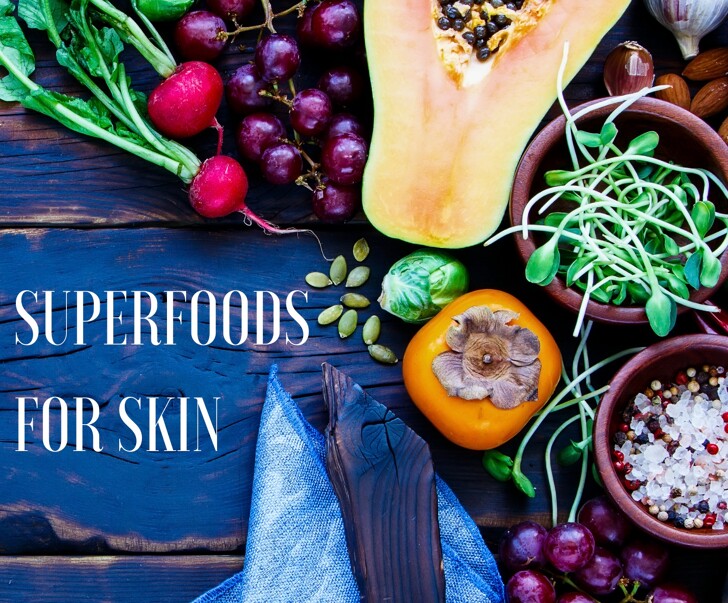 Feedback
If you find this guide useful and relevant to your needs and expectations, tell about your experience. Tell about your success and life hacks. Ask questions in the comments. Content can and will be improved with your assistance should get better, thanks to you.
Community Q&A
Ask a Question
We will answer on your question as soon as possible
About this article
Cold weather, bad nutrition, environment - all of these factors can cause dry skin, wrinkles and loss of glow. If you've tried different beauty treatments and your skin still doesn't look perfect, then it's time to change your diet. What you eat can significantly affect your skin health. Make sure you're getting enough essential nutrients to protect your skin. The foods on this list are great options to keep your skin perfect this winter.
Last updated: November 06, 2020
Views: 790