Fortnite Building Tips & Tricks
Do you want to improve at building in Fortnite? Let us help you with this. Other than shooting, building is the second most important skill you need to have if you want to win more games. If you can master your Fortnite building skills you will be able to win almost every gunfight, granted your shooting is on point. Fortnite building is not lame, it's actually very cool if you can do it right. And we will try to explain everything you need to know in the smallest format. This course is compiled from the best building tips & tricks we could find.
Structure and Material Properties
Let's look in to all basic structures and materials. Do you know how much health brick wall have? Or metal stairs? Or wooden? Knowing this will allow you to calculate your damage and split it between different weapons in order to destroy it fastest way possible. It can actually help you build resource effective defensive structures.
Wooden Structures
Wooden is the
prime early game material
. You can get it pretty much anywhere. Building from it is only viable in first few minutes or when navigating the map. Building from wood in late game is not only unreliable but actually
very dangerous
- most of the players are going to have good enough weapons to destroy it quickly.
Wooden Structures:
Cost 10 wood
Takes up to 3.75 seconds to fully build
Start with 90 health
Have maximum of 150 health
Brick Structures
Bricks is arguably the
best material
to build from. Brick structures have double amount of health if you compare it to wooden ones, and it builds 2x faster than metal structures. Stone is a little bit rarer than wood, but it's easy enough to get it before the late game.
Brick Structures:
Cost 10 bricks
Takes up to 12.5 seconds to fully build
Start with 100 health
Have maximum of 300 health
Metal Structures
Metal is
toughest and rarest
material to build from. Metal is not an easy material to find, get it from vehicles, metal lamp posts and other structures. Try to
don't waste metal in early game
and try to save enough for the mid to late stages. It will take about 7 hits with pickaxe to destroy metal wall.
Metal Structures:
Cost 10 metal
Takes up to 25.5 seconds to fully build
Start with 110 health
Have maximum of 500 health
Building While Moving, Building in Attack/Defence, Ramp Rush
Here we will focus on main uses of building and how to use it to your advantage. Do you know how to avoid fall damage? Do you know how to attack using basic buildings? How much do you know about Ramp Rush?
Building While Navigating the Map
Do you know how to use building to navigate the map and how to use it effectively to get where you want? To get down fast without taking fall damage you need to build floors right below you when dropping and quickly jump and continue to build floors until you get to the ground. If you want to go up - build stairs right inside the mountain or building and jump to skip distance and save materials.
Building in Attack
There are a few common building techniques that are surprisingly effective. One of them we call Maze Rush. It's main purpose to get close to your enemy and it's not very hard to execute - move chaotically and place walls on your way. Walls will act as shields and they will provide both cover and distraction and will allow you to minimise distance between yourself and the enemy. Another way is Ramp Rush but we will look in to it further down in great detail.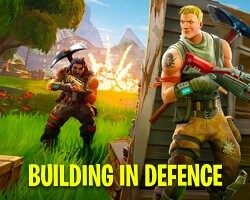 Building in Defence
As with the building in attack there is no one single way to build in defence - it's very situational. One of the most effective way to protect yourself from enemies that are rushing you - build yourself a tower box. Keep rebuilding destroyed parts to stay protected and stay calm. You need to wait and find the right time to strike or run, like enemy reload. If they decide to get close and destroy your walls with pickaxe get ready to shoot, build another wall and repeat. Building is your best tool in defence, if used correctly.
Ramp Rush
Ramp Rush is one of the most known techniques in Fortnite. Building it is not hard, but it takes some time to learn. Ramps by itself are pretty straight forward to build - place stairs on top of each other and you are done. These ramps are very weak and can be destroyed very quickly. Fortifying ramps is the tough part, but it will allow your ramps to withstand surprising amounts of damage. To fortify it - build walls behind and around ramp. Behinds walls are the most important ones, because they protect stairs. Around walls will protect you. To build fortified ramp quickly you need to flick your or mouse down when switching to walls and build, then flick it back up to build another stairs and repeat.
Community Q&A
Question
What keybinds are best?
Answer It heavily depends on your personal preference. I use these: Wall - Mouse button 4 (Thumb button 1), Stairs - Mouse button 5 (Thumb button 2), Floor - G, Roof - V. Everything else - dafault.
Question
How long does it take to destroy walls with a hammer?
Answer Two hits will always destroy the wooden walls. Up to four hits is needed to destroy brick walls. And up to seven hits to destroy metal walls.
Question
What is the best weapon to destroy enemy builds?
Answer On paper - pickaxe. It does 75 damage baseline and 150 when you hit blue target market after the initial hit. However in close range SMG and Shotguns are fairly effective as well. On longer distances i suggest using hunting or sniper rifles.
Ask a Question
We will answer on your question as soon as possible
About this article
This course focuses on building in Fortnite. Is building necessary? Why does Fortnite have building? How to improve Fortnite Building? All of these and many more other questions answered. Completing this course will help you understand how it works and what should you do in tough situations.
Last updated: September 10, 2020
Views: 2,438