Pro Skin Preparation For a Perfectly-Looking Makeup
Trendy makeup will successfully emphasize your facial features, and lift your mood on gloomy days. Learn how to professionally prepare your face skin for the makeup routine, to reach a perfect look.
1
Follow The Tips Below For A Perfect Makeup
Basic Rules For Skin Preparation
The key to beautiful, long-lasting, and effective makeup is to properly prepare the skin. After all, applying makeup to healthy, well-hydrated skin, without flaking and inflammation, is much more pleasant and easier than working with a problem face. Start preparing the skin for makeup in advance, here the methods will differ, depending on the skin types. Let's look at these features below.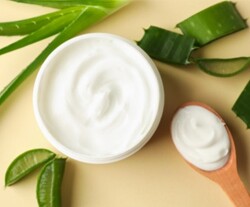 How to Handle a Dry Skin
On dry skin, decorative cosmetics will emphasize the fine lines that appear due to lack of moisture, and irregularities like peeling. Start preparing dry skin for makeup in the evening. Use a cloth mask containing moisturizing ingredients (aloe juice, hyaluronic acid, Shea butter). And better make a night mask sleeping pack, which will be engaged in restoring the hydro balance all night.
How To Handle An Oily Skin
On oily skin, make-up lasts only a few hours, and then drips and smears look untidy. In this case, the daily use of a tonic with a mattifying effect is recommended, because this stage helps to balance the pH and reduce the pores. And use a spray for fixing makeup every time.
Recommended fixing spray Lasting Fix Makeup Setting Spray by Maybelline New York
Start With A Clean Slate - Exfoliation
Forget about scrubs
that can injure the skin, increase peeling, or make redness. Instead,
use gentle products with AHA acids
or enzymes. These will gently remove the layer of keratinized cells, to make your skin shiny.
Massage the skin
with your favorite product a few of times a week, then wash thoroughly with water and pat the skin with a soft towel.
The softest exfoliating products in the market as of Fall 2020 are:
Enzyme peeling by Revaleskin
Enzyme peeling mask by Santa Maria Novella
Daily Microfoliant powder by Dermalogica
Make Friends With Tonic
This
step is mandatory
. It's needed to remove any remaining dirt from the surface of the skin, as well as soothe, soften and refresh.
Advantages of applying tonic:
Completes the skin cleansing process
Restores the pH balance
Prepares the skin for applying a moisturizer
Refreshes the skin
A dull complexion, lack of blush, dry skin — all these problems will be solved easily by tonic
After all, Toner is a guide that allows the cream's active ingredients to work more effectively on the skin.
The Right Tonic For A Dry Skin
Choose
tonics with powerful moisturizing
ingredients such as glycerin, hyaluronic acid, amino acids, aloe juice, or extract. Wipe your face twice a day or more often, especially if you are often in an air-conditioned room or extreme climatic conditions.
Recommend products for dry skin:
Soothing Tonic by La Roche-posay - For Sensitive Skin
Facial Tonic Vitamin Soothing With Rose Water "Basic Care" by Garnier - For Dry Skin
The Right Tonic For An Oily Skin
If your
skin is oily
and makeup lasts only a few hours, a tonic with a Sebo regulating and a
mattifying effect is suitable
. Pay attention to the zinc in the composition. For oily skin, products with moisturizing ingredients (aloe, hyaluronic acid) are also good, because often such
skin suffers from dehydration
.
Recommend product:
Cleansing Lotion With Micro-exfoliation Effect For Oily Skin Perfect Skin Toner by Biotherm - For Oily Skin
Tonic Application - How to Apply it Correctly
Perform this essential task with a soft but solid cotton pad.
Apply a few drops of the tonic
and wipe skin from the center to the periphery, keeping the movement gentle but thorough.
Perform each of the following steps in this order to achieve maximum cleanliness:
Step 1: From the center of the forehead to the temples, one smoothing movement on each side
Step 2: From the wings of the nose to the ears
Step 3: From the center of the chin to the ears
Step 4: From the glabellar space to the tip of the nose
Step 5: From the bottom up, towards the chin on the neck skin and decollete area
Basic Tips For Quality Hydration
All skin types need hydration. A good moisturizer for your face before makeup can either preserve your beauty. And vice versa.
It is also important to choose the right product for your skin type. How to do it right read below.
Moisturizing Oily Skin Before Applying Makeup
The main property of a moisturizer for oily skin
should be matting
. The most suitable texture is gel or fluid. In the composition, it is important to have: micro powder, zinc, hyaluronic acid, salicylic acid for exfoliation
Recommend Products:
Moisturizing gel-cream oil-free Ultra Facial Oil-Free Gel Cream by Kiehl's
Multi-skin restorative after exposure to drying agents Effaclar H by La Roche-Posay
Moisturizing Dry Skin Before Applying Makeup
Properties of moisturizing
creams for dry skin
: increase hydration & restore lipid barrier for moisture retention In the composition of such creams, be
sure to look for
: Aloe, glycerin, vitamin E, fatty acids.
Recommend Products:
Nutrix Royal by Lancôme
Aqualia Thermal Rich by Vichy
How To Apply The Moisturizer
Always moisturize the skin immediately after applying tonic, because wet skin is more susceptible to moisture components.
Apply the cream with gentle massage movements until it is completely absorbed and be extra careful around the delicate eye area. Apply lip balm to your lips to moisturize and protect them. Then start applying the makeup as detailed below.
4
How To Apply A Foundation
The Secret Of A Great Primer
Why do I need a primer? If there are red spots or rashes on the face, the green base
will cover them
.
For skin with lumpy areas or wrinkles, a transparent silicone primer is suitable. It will fill in the lines, smooth the surface, and prepare the skin for applying the tone.
Test any silicone-based primers before using them, because some people with sensitive skin have allergic reactions to silicone.
How to Use a Primer Correctly
Cover your skin with a thin layer to the desired areas.
Apply the primer
evenly to the skin for a smooth and even coverage. It is better to
use a sponge
or makeup brush, but you can also use your fingers. But remember, this is not hygienic.
Step 1: Apply primer to the center of the face and blend outward. Blend near the hairline carefully.
Step 2: Apply the primer very gently to your eyelids to keep your eye makeup tidy all day.
Step 3: Apply a thin layer of primer to your lips to keep the lipstick looking vibrant and not creating fine lines around the mouth.
Proven Primer Products
Hydrablur primer by Dermalogica - reduces the appearance of surface wrinkles, controls oily shine, creates a matte silky finish, and gives the skin a natural glow
Eyeshadow Primer Potion by Urban Decay - This eye primer keeps eyeshadow crease-free, color vibrant, and application smooth
Oil Photo Finish Primer Oil by Smashbox - Ultra-light, fast-absorbing face oil doubles as face primer to prep skin for flawless makeup application. It nourishes and gives skin a radiant look with a dewy finish
How to Choose The Right Foundation
The Foundation is also
selected according to the type of skin
and according to its condition.

Oily and problematic skin — BB - and CC-creams: even out the face tone, mask imperfections, moisturize.
Dry and normal skin - moisturizing toning emulsions. These products give radiance, moisturize, and nourish.
How to Apply The Foundation Correctly
For
quality application
, use a foundation brush or sponge. Dampen a sponge with water. Take some of the product with the wide end of the beauty sponge and
start applying it from the center
of your face, blending well. This is most effectively achieved by using a point or bouncing motion.
Use the narrow end of the sponge in the same bouncing motion to blend around the nose or under the eyes.
The Differences Between Corrector And Concealer
Each of these products has a
different objective
in this process. Therefore they need to be used in specific scenarios:
Concealer is lighter in texture. It's designed to give the skin a glow and hide small imperfections. It can be applied over a foundation. Its palette of colors is limited to natural shades.
Corrector is a dense material. As such, it masks imperfections well like acne and redness. It needs to be applied before the foundation. Correctors are available in a variety of colors.
Feedback
Having prepared the skin in this way, you can now safely apply decorative cosmetics.
We hope you find this guide useful and relevant to your needs and expectations.
Tell us about your success and life hacks. Ask questions in the comments. Our content can and will be improved with your assistance should get better, thanks to you
Community Q&A
Ask a Question
We will answer on your question as soon as possible
About this article
Trendy makeup will successfully emphasize your facial features, and lift your mood on gloomy days. Learn how to professionally <b>prepare your face skin</b> for the makeup routine, to reach a perfect look.
Last updated: October 28, 2020
Views: 967