Cuticle Removal DIY
Well-groomed nails make a great first impression. This requires a neat cuticle, excellent shaping, and skincare. Home manicure is the right way to go. Complete this course to master professional and simple cuticle removal - An essential step forwarding in taking care of your nails. Do it home, save money, and precious time.
Reference
Follow this step by step guide to reach a perfect look. It's within reach. Start now.
Workplace Preparation
Get started by gathering these items and place them within reach:
A small towel
An Antiseptic
A bowl with water
Sharp and thin Scissors
Cuticle oil or nourishing cream
A pusher with a spatula tip or gentle orange stick
Optionally your favorite essential oils and some sea salt.
Skin Disinfection
An Antiseptic treatment is mandatory to eliminate unnecessary contaminations. Any alcohol-containing solution will be also suitable for this purpose. Rub it gently into your nails skin until it dries up.
Nails Shaping
Use a clean nail filer to shape it as you desired. Move the filer from the edges to the center of the nail, to prevent delamination. Each of the common filing approaches such as Oval, Soft square, Rectangular, Stilettos - are explained in a dedicated guide you can find here.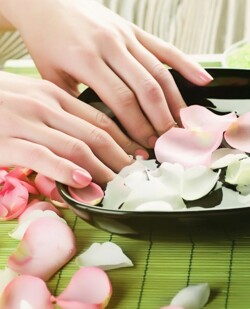 Steaming the cuticle

Hidreate the cuticle you are about to remove. Softening it is crucial for a successful removal.
Use Paper towels, warm water.
Apply your preferred essential oil, preferably ylang-ylang, apricot oil or tea tree oil, to soothe the water. Add a spoon of sea salt and stir well.
Immerse your hands in the soapy water for at least 5-7 minutes, until the keratinized skin is completely softened.
Preparing the cuticle for cutting
Get your hands out of the water.
Dry your fingers with a towel just enough to keep the skin moist. Using a pusher or orange stick, gently push back the cuticle into its base, freeing the excessive skin particles from the nail as possible. Put no pressure on the nail itself. Keep your movements slow and soft. Following these steps, the cuticle will rise freely above the nail plate, making itself available for trimming.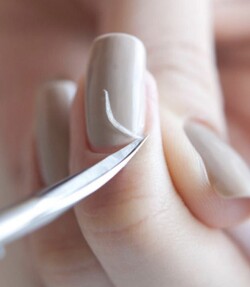 Cuticle Pruning
Use the scissors mentioned above carefully, placing them perpendicular to the nail, and start trimming from right to left in a stable movement to avoid burrs or injuries.
Most importantly: The cuts should be even and smooth. Don't try to tear the skin. This may lead to abscess, burrs or cuts. Only the keratinized part of the skin is subject to removal. If while trimming the skin lose its moisture in the process, softly wet your finger and go on.
Oil Application
Once done with trimming, make sure to lubricate your hands with a moisturizing cream that includes any anti-inflammatory oil. Pay close attention to the cuticles on all fingers. Rub the cream into each nail for a few seconds.
This essential step will heal any tiny wounds which may have occurred during the treatment while giving your fingers a neat and fresh look.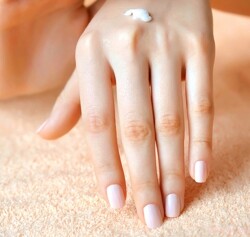 Skin Nutrition
The Next step is appling a nourishing cream to your hands. Massage it well into the skin until completely absorbed. In cold weather, consider special nails protective-cream and gloves.
If you have followed the steps in this guide so far accurately, your nails are now ready for different colorful nail coating techniques, covered in this guide.
Safety Tips
Steadiness and Accuracy are the most guidelines to follow. Never put pressure on the root of the nail or scratch ir - This may lead to inflammation and bumps. If the cuticle can be simply pushed aside, it might not need a trim right now. Cut it when it's needed. Make it a habit to push cuticles back on each shower. Use protective gloves when using cleaning chemicals to keep your nails shiny, healthy and attractive.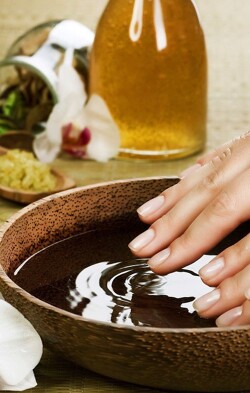 Tips For Beauty And Care
General Nail Tips worth Knowing Make friends with
these effective essential oils:
Lavender with protection and moisturizing effect
Lemon oil for whitening the nail plate
Tea tree oil for healing and softening
Use a cuticle cleaner regularly
to avoid excessive cuticles that are hard to trim.
Protect your hands from cold
weather and wind that tend to dry the nail. Always wash hands with warm water. Too hot or too cold water damages nails significantly.
A
well-groomed and healthy hands
and nails turns any woman into a special one.
6
Tell Us About Your Experience
Results
Following our guide, we are positive that results exceeded your expectations. From this point on, it's a matter of a weekly practice to accomplish it with success every time. No more wasted time on pricey salons. You can now make it yourself at your clean, convenient home, at the time that's right for you, with no extra cost. Let us know if this guide was helpful for you or if there's anything we better mention in addition to the tips provided here. Share with us result photos - we are curious to see how good You do it with our guide's assistance.
Community Q&A
Question
Tell me what is the safest way to remove a cuticle?
Answer Hello. The most gentle is the hardware method, which is available in the salons. However, it is not suitable if the cuticle is inflamed and damaged. Cutting manicure with scissors or forceps is the most time-consuming method that requires skills, but versatile, available for home use, which is why our first lesson is dedicated to it.
Question
What cuticle care products do you recommend?
Answer Hi) Here are my own top remedies: 1. Almond oil. Best for strengthening the nail plate and cuticle, moisturizes and gives a healthy look. 2. Olive oil. Vitamins A, D, E, K - give radiance and heal wounds. 3. Cuticle oil in a sticker of the OPI brand - with regular use, splitting of nails stops, growth increases. The cuticle becomes soft and neat 4. Orly Cutique - perfectly softens, nourishes and eliminates inflammation. Follow our tutorials, we will be doing a lot of useful reviews and recommendations. See you)
Ask a Question
We will answer on your question as soon as possible
About this article
Well-groomed hands make a great first impression. It goes way beyond a fashionable coating. It requires a neat cuticle, excellent shaping and skin care. A visit to the Salon is a valid option but these are expensive and time-consuming. Mainly for hygiene and economic reasons, that's when home manicure is the right way to go. Completing this course, you will gain skills to perform a perfect manicures by yourself. In 3 minutes from now, you will master the most basic step - cuticle removal. Let's Go!
Last updated: September 27, 2020
Views: 529