Wood
Wood is the
most common
and most used material out of 3. The best source of wood in the forests or jungles are the trees. In the cities or village areas, the most common source of wood is the furniture and some of the building's walls.
Making buildings from wood takes the least amount of time, but it has the lowest HP from the bunch.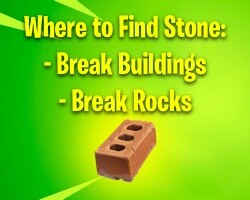 Stone
Second material is stone. It's the most efficient material. The best way to get Stone in most of the areas is to start breaking rocks. In cities, you can break buildings. However, the best way to get Stone is to go into one of the three Canny Valley areas and break some big rocks. Building from Stone takes a medium amount of time, and it has the medium amounts of health, so out of three materials stone has the best value in term of the health/build time.
Metal
Last, but not least - Metal. Metal is the
toughest material
.In cities and villages, the main ways to get metal is to start breaking vehicles, lamp posts, trash bins, and other metallic structures. In other areas, the most efficient way to get metal is to find mines and get them there.
Building from metal takes the most amount of time, but it has the highest HP. Build from in when you are sure that no one is around. Use it primarily in the late game to create yourself a cover.