Walls
You will mostly use it to quickly protect yourself in battle, or to fortify your structure to prevent it from being destroyed. Walls have the most hp out of all structures, therefore their primary use in combat is to soak as much damage as possible. Wall can be edited to create doors and windows that will allow you to gain unexpected advantage in combat. We suggest you to use either default keybind, or something that is easily accessible, like mouse button 4.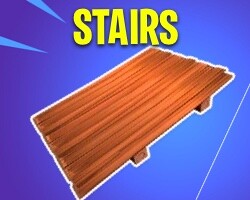 Stairs
Stairs - second most important structure in your arsenal. They will allow you to
quickly gain a height advantage
in battle and they are a key structure in combat, especially when executing Ramp Rush which we will break down in great detail later.
Stairs are also very important when navigating the map as a tool to get up to the high ground. As for keybind either leave it as is, or set it to mouse button 5.
Floors and Roof
Floors and Roof are the least used and highly situational structures. Floors are mostly used when you are building towers, or when dropping down from a cliff and trying to avoid fall damage, or when fortifying your own structures with an additional layer protection. They are very helpful if you want to box enemy players. Pyramid Roof on the other hand is mostly used to create a small cover while maintaining the ability to shoot. Keybinds for these two are G - Floor and C for Roof.